Caucasian Chalk Circle
We always try to offer our GCSE Drama students a wide range of experiences throughout their course. They have already seen a musical, 'Blood Brothers', a Shakespearean play 'A Midsummer Night's Dream', using puppets and on the evening of 27 November, a group visited Stroud's new Cotswold Playhouse to see a modern translation of a Bretolt Brecht play.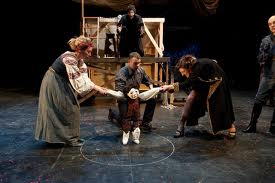 The Caucasian Chalk Circle has 2 stories and both begin in a Caucasian city ruled by a Governor who serves a Grand Duke. The two stories come together towards the end of the play as their problem is solved around a chalk circle. As the play is set in the Caucasus Mountains, the title is therefore 'The Caucasian Chalk Circle'.
The students were able to see some of the Brechtian techniques they have been studying. As the audience entered the theatre, most of the large cast were already on the stage with a simple set and quite harsh lighting. Throughout the play the cast were visible as they changed characters by selecting props or simple costumes and there was a story teller who was always on stage.
A late night return but well worth the experience to see a modern interpretation of a significant piece of theatre.