Phil Packer Day
We were so honoured on Tuesday 20 March to be joined by the inspirational Phil Packer MBE who walked 8 of his 2012 miles, around the school field, with our students. Phil (www.philpacker.com) is currently raising awareness of young people who face adversity, by walking with youngsters in every county in the country to cover 2012 miles in 2012.
He is the founder of the British Inspiration Trust and also a patron of many different charities including CRY (Cardiac Risk in the Young) which is our national chosen charity this year.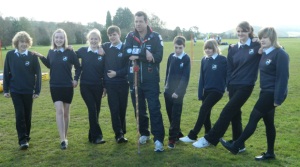 The students had a fantastic time. Each year group were allowed from lessons to walk a few laps with Phil and to chat to him. An obstacle course, set up and designed by Beth Hewitt, and based on our local charity Time and Place, challenged the more competitive students. Some ended up very muddy!
We were joined throughout the day by representatives from CRY, Time and Place, and local sports clubs.
So far we have raised approximately £300. Further donations are welcome, they are shared equally between our charities.
We will easily complete our part of the deal by walking 2012 miles as a school and we know from his determination that Phil will complete his! Please follow his progress by looking on his blog.
Many thanks for your continued support. The Dene Magna Charities Committee.
Time and Place would like to ask that if possible, students collect vouchers in the Citizen from 19 March in support for the bid for the £15,000 charities give away. They can be handed in at the school reception. Thank You.