Yr8 Geography and Science Field Studies Trip
Isle of Wight Wednesday 25 March – Friday 27 March 2015
DEPART: 8.45AM meet at school, Wednesday 25 March
RETURN: 6.30pm Friday 27 March**
Timetable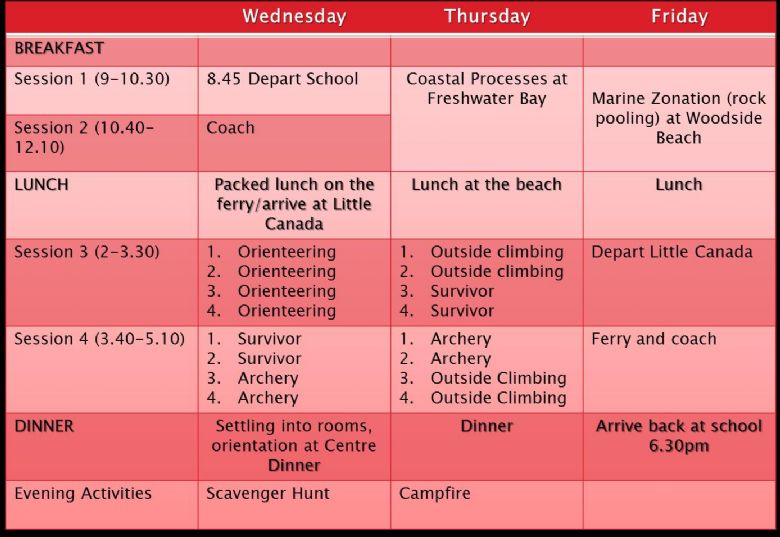 Suggested Kit list
Clothing
Take plenty of clothing in case of wet weather. Clothing should be old.
Nightwear
Underwear
Socks, including over ankle length/welly boot socks
2 or more fleeces / Sweatshirts
3 T-shirts
1 Long sleeved T-shirt
3 pairs of old trousers, 2 for activities, one for evening
Walking boots or wellies (for the beach)
1 pair of shoes or trainers for indoors
Warm waterproof jacket (and trousers if you have them)
Other Essentials
Wash bag (shampoo, shower gel, toothbrush etc.)
Deodorants - It is advised that students bring roll-on deodorants rather than aerosol deodorants as these can often set off fire alarms
1 towel
Plastic bottle for drinks
Pen, pencils, notebook and clipboard
Rucksack (for the coach and excursions – must have packed lunch in for Friday)
Labelled plastic bags / bin liners (for wet items)
Camera (student responsibility)
Spending money (max £20)
Packed lunch for Wednesday
Please note: We will be going to do our beach studies regardless of weather, so a waterproof jacket and suitable walking shoes are essential – Converse aren't suitable for beach studies.
NO MOBILE PHONES – These are banned at PGL Centres and will be confiscated
Emergency Contact Numbers:
Miss Dashfield : 07851 577529 (emergency only please)
PGL Little Canada: 01983 885400
Address of the Centre
PGL Little Canada
New Road
Wootton Bridge
Ryde
Isle of Wight
PO33 4JP
FAQ's
Pocket money –

No more than £20 for any snacks on field study mornings and for any souvenirs

What to pack and valuable items -

Please limit luggage to one case/bag per person and one item of hand luggage for carrying food etc. on the journey

We would like to stress that:
o Brand new and expensive items (such as mobile phones) should be left at home
o Old, casual clothes are recommended
o Pack more clothes if it is likely to be wet weather
o All clothing should be marked with the student's name and school
Electrical appliances (such as a hair dryer)- Guests are responsible for the safety of any electrical appliances brought to centre. The Centre Manager reserves the right to ask for appliances not to be used if they appear to be unsafe.
Laundry facilities - There are limited laundry facilities on centre and therefore they can only be used in an emergency.
Contacting your child

- Parents are asked not to call the centre except in an emergency, please call Miss Dashfield in the first instance. Students are involved in an activity programme often on a large site and may be some distance away from the phone.

Ipods, mp3s, cameras, etc., brought at the student's risk.

Health – Medication given to their teacher, tell us before you get travel sick, tell us early if you begin to feel unwell, and look out for each other.
**We will contact parents via a telephone chain IF we are due to arrive considerably earlier or later than the planned 6.30pm.